Enjoy a Luxurious Stay in the Ionian Island of Kefalonia
Arrange your break in the largest of the Grecian islands with us. We offer a beautifully appointed five bedroom villa, with a private pool for cooling off and stunning views over the turquoise waters below.

Amari Villa in Charming Kefalonia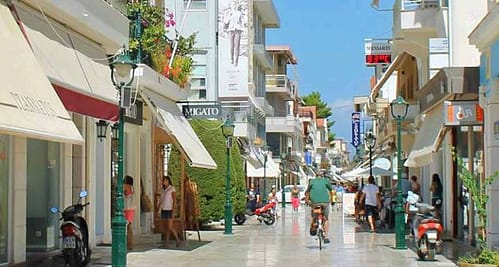 Amari Villa provides guests with a perfect based from which to explore this idyllic island, filled with natural wonders.  It's nestled close to Spartia, a sleepy, authentic Greek village that's filled with rustic houses and a delightful church with a bell tower.   A ten minute drive away brings you to the pristine coastline, or the island's capital, Argostoli, with its fascinating folk museum. You may be tempted to just relax in your villa With exclusive use of a huge nine metre pool, you and your party may want to simply spend the afternoon floating on the warm water and gazing at the spectacular scenery.  Then take a stroll through the well-maintained private gardens, before retiring to one of the five opulent bedrooms inside. Whether you're indoors or outside, you'll feel like a VIP guest in the Amari Villa; air conditioning will keep you cool as the temperatures soar and you can look out over the Ionian Sea from the comfort of your balcony.  Naturally, we've included a high-speed wi-fi connection so it's easy to stay in touch and keep those at home updated on your stay.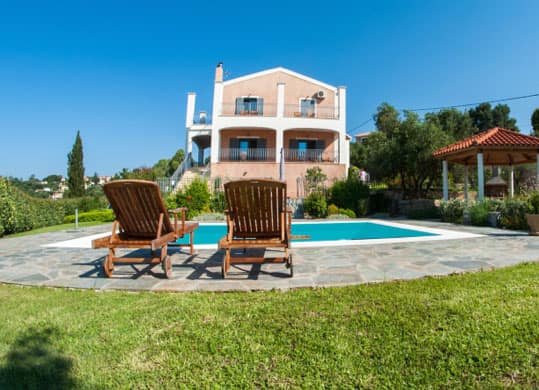 For a stress-free getaway to the heart of authentic Kefelonia, the Amari Villa is ideal.   It has all the home comforts you'd expect and much more besides.  There are five bedrooms, 3 bathrooms, high-speed wi-fi and a washing machine.
BATHROOMS
BEDROOMS
WASHING
TOILETS
WIFI
What Makes Amari Villa So Special?
The Villa
Each room is decorated to the highest standards so guests feel utterly spoilt, there are large balconies with sea views and a genuine sense of opulence throughout this spacious home.
Your Own Private Pool
When you stay at Amari Villa, the pool is yours alone; have a bracing morning swim, splash around with friends, or simply snooze on a sun lounger.
Inspiring Vistas
Imagine waking up to a sun soaked balcony overlooking the shimmering blue ocean, it's perfect for watching colourful Kefalonia sunsets too.
Exclusive Escapes
As one of the island's premium holiday homes, Amari Villa is often booked well in advance, so to avoid disappointment give us a ring with your preferred dates as soon as possible.
Some words from our happy residents
Avithos – A Lovely long clean sandy beach with beach bars and a restaurant. Shelves gently so great for swimming clean and clear blue waters. With shallow waters, this beach is ideal for kids to safely swim and play with the sand.
Lourdas - Nestled in a sandy cove, has fine white sand and crystal clear waters, which are deep in some spots. It is organised with umbrellas and sunbeds. Many restaurants, beach bars, mini market and water sports are available here
Antisamos - Close to Sami port, this beach stands out for its natural surroundings, crystal clear emerald waters and shiny white pebbles. Made famous by the movie "Captain Corelli's mandolin", you will not be disappointed.
Assos  - Such a gorgeous little village. The water is beautiful and such a great temperature. The water is salty so super easy to float and there is hardly any water movement so great for a gentle swim. Visit the Venetian castle for some history and amazing uninterrupted views
Myrtos - the most popular Kefalonian beach! Has been featured on many travel magazines and post cards in reality is far better than photographs! This incredibly photogenic beach has a breath-taking natural landscape. Its turquoise waters and glistening white pebbles complete the heavenly scenery.
[trustindex data-widget-id=576031163ba518345051fe88c6]